Statue Rededication of Col. Hans Christian Heg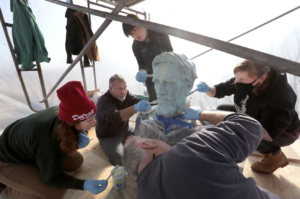 Please note the ceremony is not in the capitol Building but on the outside lawn in front of King Street(to the East).
The statue of Col. Hans Christian Heg, standing watch in front of the Wisconsin State Capitol since 1926 when citizens of Norwegian descent presented it to the people of Wisconsin, will be rededicated with historic fanfare on Memorial Day weekend.
The Col. Heg Statue Rededication Committee has announced that the event will be held at 1 pm on Sunday, May 29, 2022, in front of the capital building at 2 East Main Street, in Madison (via the King Street entrance walkway).
Col. Heg was the highest-ranking Wisconsin soldier to give his life in battle during the Civil War.
Fred J. Campbell, chairman of the committee and secretary of the Madison Veterans Council, said, "The people who paid for this monument were celebrating the fact that Col. Heg was a Norwegian immigrant, fervent abolitionist, and organizer of the 15th Wisconsin.  They called it a debt of gratitude."
The 15th Wisconsin Infantry was an ethnic volunteer regiment composed primarily of Scandinavian-American soldiers from Wisconsin, Iowa, Minnesota, and Illinois.
Born in Norway, Col. Heg became an American citizen, civic leader, and patriot. At age 33, he was fatally wounded at the Battle of Chickamauga in Georgia on September 19, 1863, dying the next day.
This event will include a ceremony based on a memorial dedication service from 1917 by the Grand Army of the Republic (GAR), the largest group of Union Civil War veterans at the time. The Sons of Union Veterans of the Civil War (SUV-CW), successors to the GAR, is principally involved in this event.
Alan G. Hembel, president of the Madison Veterans Council, will serve as the Master of Ceremonies for the program. Christopher Kolakowski, director of the Wisconsin Veterans Museum will deliver the keynote address. UW-Stout Professor Kristin A. Risley and Heg descendant Lori Coffey will also speak.
The ceremony will include members of SUV-CW in Civil War-era uniforms performing military honors and color guard duties. Historic music and marches will be performed by the 1st Brigade Band of Watertown. Choral pieces in English and Norwegian will be performed by the Edvard Grieg Chorus of Dane County.
Other descendants of Col. Heg planning to attend include Peri Raygor of Arizona, James Thomas Heg and Christopher Heg of Washington, Charles Garrison and James Patrick Heg of Virginia, Jon Van Doren of Maryland, Lexa VanDoren Kirk of West Virginia, and Theresa Johnson of Florida.
The Col. Heg Statue Rededication Committee is chaired by Fred J. Campbell, Secretary of the Madison Veterans Council, and includes John Decker, SUV-CW WI Dept Commander; Professor Kristin A. Risley, University of Wisconsin-Stout; Kevin Hampton, Curator of History at the Wisconsin Veterans Museum; Lori Coffey, Heg descendant and family historian; and Dee Grimsrud, Sons of Norway Idun Lodge.