BRODHEAD'S BAND
Freeport lies a hundred miles west of Chicago and only a few miles south of the Wisconsin border.  In the year of 1858 on August 27, this small north central Illinois town was witness to a titanic verbal struggle between two enormous personalities of the day.  Stephan Douglas and Abraham Lincoln were in town to debate the hot issue that was threatening to divide the country: SLAVERY!
No one in little Freeport ever imagined that by 2 pm. 15,000 pairs of ears would be on hand to hear this historic verbal joust.  Punctuating this nearly three hour duel was a small group of approximately 14 men holding musical instruments.  They were the Brodhead Brass Band, hired to play tunes that both entertained the crowd and punctuated important points of both speakers.  They had arrived in Freeport the day before in a bandwagon that was built especially for them by the Spencer Wagon shop of Brodhead, Wisconsin.  Pulled by a magnificent set of six matched horses, the wagon had no problem carrying the band, their baggage, and of course, their instruments to what was clearly a prestigious, and most important, paying engagement!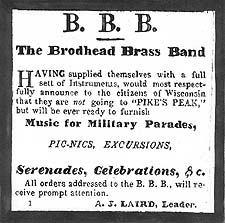 (From the Brodhead Weekly Reporter, September 2, 1859)
The "B.B.B.", as it was known, was typical for a town band of the day.  While they sported brass instruments, they were almost totally lacking in any formal music training and were largely self taught.  The men also lacked band uniforms but with the temperature soaring near the century mark, no one seemed to care.  The Brodhead Brass Band was pleasing one and all!  The music, unlike the speakers, could be heard clearly by nearly everyone assembled.  It was indeed amazing that such a novice group could produce a variety of tunes that included polkas, waltzes, and popular tunes of the day and, of course, patriotic airs.
They brought to Illinois a new set of brass instruments that included tuba, baritone & tenor horns, Eb alto, Bb and Eb cornets as well as percussion.  The performances were like the country itself: crude, roughhewn, loud and brassy, full of life and vigor!  The event was an early milestone for this rising band.
| | | |
| --- | --- | --- |
| Edwin Oscar Kimberly | A TIN BAND | George T. Spaulding |
Brodhead is a small community located in southwestern Wisconsin.  In 1857, Brodhead was just one year old and on the move.  Rapidly growing railroads, churches, newspapers, hotels and prosperous shops surrounded by rich farm land made this a good place to raise a family.  Maybe it was a discussion after church or around the stove in the general store, but at some point, someone thought it was time for musical culture to come to Brodhead: it was time to start a town band.
Ten young men were willing, though untrained, to give it a go.  They were E.O.Kimberly, J.B.Taft, C.W. Clinton, Jack Laird, John Laird, Tom Laird, George T. Spaulding, Charlie Stone, John Overbaugh and Robert McLaven.  Hemp Stone (Charlie's father) volunteered to drive the rough farm wagon that would serve as band wagon until a proper one could be built.
The first band was known as the Brodhead Tin Band: named so for the cheap starter set of tin instruments they began with.  There were ten players struggling to build the Tin Band when they received their first invitation to play outside of Brodhead.  It came from the city of Beloit, Wisconsin, to play for a political rally and picnic that would host a large crowd and over a half a dozen area bands.  Ready or not, the boys accepted the invitation and bravely faced the crowd with its brand new three-piece repertoire.  The Tin Band was given the honor of leading the immense procession through town and out to the park where they were hailed as the best band and given the keys to the city.  Everything was free.  A tradition of excellence had been born!