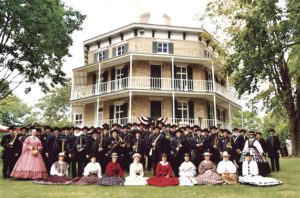 ---
A step back in time…
The Octagon House Museum, located in historic Watertown, Wisconsin was built by pioneer settler John Richards and completed in 1854. The unique 8-sided design for this grand residence was inspired by New York architect Orson Fowler, who promoted the healthy living aspects of octagonal dwellings in the 1850s.
The solid brick, five-story mansion was built with early forms of central heating, running water, and ventilating systems. A magnificent four-story central cantilevered spiral staircase rises four stories from the first floor to the cupola or "tower room" where one can enjoy sweeping vistas of the city and surrounding countryside.
The Octagon House was one of the largest homes built prior to the Civil War in Wisconsin. Its only occupants have been members of the Richards family. Following the passing of Anna Richards Thomas in 1936, the mansion was donated in 1938 to the fledgling Watertown Historical Society whose dedicated members have maintained the Octagon House as a public museum ever since.​
The museum grounds are home to the First Kindergarten in America founded in Watertown by Margarethe Meyer Schurz, a restored pioneer barn, a delightful 1936 model of the Octagon House and a tour center with gift shop.
We invite you to join us for a fully-guided tour of the Octagon House Museum. Tours of the First Kindergarten and Pioneer Barn are self-guided.
Apologies, but no results were found for the requested archive.